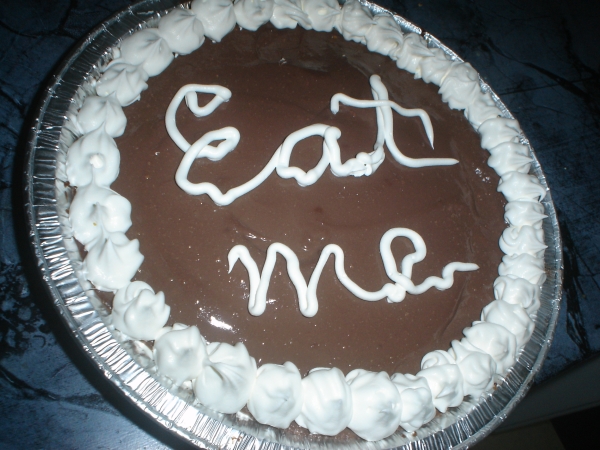 Mushroom and Lentil Stew (seen here last Thanksgiving), because we knew others in the family liked it. This year, he and I decided that the stew was nommy enough that we need to make it more than once a year.
Thursday night, we got the unexpected treat of a friend joining us, and so we looked for something a) big, b) nommy, and c) easy to make. We settled on chili and cornbread! Hey, I'm from Texas, and chili makes perfect sense as a Thanksgiving meal. We had this chili (also seen here before), and used Bob's Red Mill Cornbread Mix for our cornbread. To the dry mix we added the recommended wet ingredients (oil, eggs and milk, I believe) along with a couple teaspoons of sugar and some jalapeno pieces. Be aware, though, that using a pan smaller than 8×8 makes for a very thick cornbread that does not properly cook through.
Friday was our second anniversary, and our celebration included trying two new recipes! The first came from this very intriguing supper loaf generator: The Magical Loaf Studio. While the maker of the recipe generator can't vouch for every recipe, we can tell you ours was fantastic.
Lentil Supper Loaf

1/2 cup pine nuts, ground or chopped finely
2 TB olive oil
One onion, diced
One large garlic clove, minced
One large carrot, peeled and grated
2 cups cooked lentils
1 cup cooked brown rice
1/4 to 1/2 cup vegetable broth, as needed (or one cube veggie bouillon and ½ water)
2 TB all-purpose gluten-free flour
1/4 tsp. dried thyme
1 tsp. dried basil
Freshly ground black pepper, to taste
2 tsp. Tony Chachere's

1. Preheat the oven to 350º. Spray a loaf pan or 8×8 square baking pan with nonstick spray (an 8×8 pan makes a crisper loaf).
2. Sauté onion, garlic and carrot in the olive oil until soft. Add to all remaining ingredients in large mixing bowl.
3. Mix and mash together well, adding only as much liquid as needed to create a soft, moist loaf that holds together and is not runny (you may not need to add any liquid if the grains and protein are very moist). Add more binder/carbohydrate as needed if the loaf seems too wet.
4. Press mixture into the prepared pan and bake for 45 minutes to 1 hour, or until cooked through.

The original recipe called for letting the loaf cool in the pan for 10 to 15 minutes, then turning it out onto a plate or platter and slicing. We took one bite, and couldn't wait that long. Ours had about 50% loaf-staying-together power – we didn't need a spoon, but it wasn't really a 'slice'. Perhaps it would have been firmer had we followed directions. Gabe did manage a tasty sloppy joe-style sammich of it. Sorry, it didn't survive long enough for pictures.
By now, you've seen the pie. The pie… was challenging business. Our chocolate pie recipe began its life as one of the easiest desserts there is, which is the only reason why my dad tried making it. He loved it, and we all loved it, and he passed it on to me when I wanted it. But alas, that version of the recipe was filled with both gluten and gelatin, two no-no's for Gabe and I today. So, I had a lot of adaptation work to do. Thankfully, the chocolate gods smiled that day, and it went very very well. The final adapted recipe is still a relatively easy dessert. We ended up making two pies, and took one to a party Saturday night, where it was a big hit with folks that don't share our wacky dietary restrictions.
I'll share with the following asterisks:
*this is the recipe as we made it, creating two pies, but I have a feeling it could easily be halved to make one pie.
*I baked this crust. I debated that decision a lot before doing it, and I don't know how the crust would behave if not baked. I'm tempted to try, just to see, though it was super nommy this way. It made for a nice solid base after baking.
* Yes, the pudding is made of tofu. Yes, I know, I didn't believe it would work either. Really. Have I mentioned I'm picky about my chocolate? And, well, tofu??? Turns out, it's amazingly good, and very similar to Jello chocolate pudding, only slightly milder in taste.
(Gluten-Free Gelatin-Free) Chocolate Pie

2 boxes Pamela's Chocolate Chocolate Chip Cookies
One stick melted butter
4 oz cream cheese
2 tbsp sugar
1 tbsp milk
One 8 oz package cool whip
2 12-oz packages Silken Tofu, Extra Firm
2 packages Mori-Nu Mates Chocolate Pudding Mix (found at Whole Foods)

Crust:
Crumble all the cookies into very small pieces (the smaller the better). Add in the butter until you have a good paste. Coat bottom of two pie plates with it (if you're baking it, side crust will not stay up). Bake at 350 degrees for about 8 minutes, or until a bit bubbly at the edges.

Bottom Layer- White:
Mix cream cheese, sugar and milk until relatively smooth. Stir in half of cool whip (about 4 ounces). Spoon into pie crusts.

Top Layer – Chocolate:
Blend tofu in food processor until smooth. Add in mix and blend thoroughly. Pour into pie crusts.

Add additional cool whip on top. Enjoy! Dad says, "Serves 8 (or 2 chocoholics 4 times)".