If you haven't made your own pesto before, it's super easy! The recipe (and picture) below include garlic bread.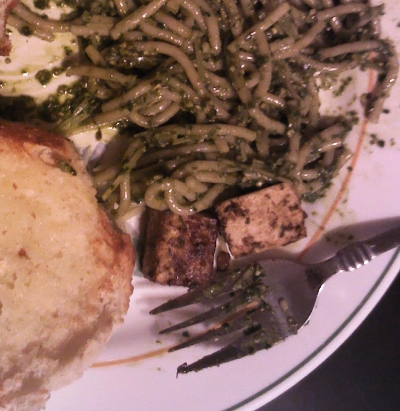 NOTE: The baked tofu created in steps 1 and 2 also works wonderfully well as a dry snack straight out of the fridge!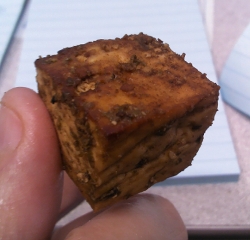 Tofu Pesto
Generously serves 4

General ingredients:
3 blocks super firm or extra firm tofu (sprouted or unsprouted)
1 tbsp olive oil
6 tbsp balsamic vinegar
Tinkyada spaghetti noodles (or other gluten-free pasta)

For pesto:
1/4 cup nuts (pine nuts are traditional; cashews, walnuts or sunflower seeds also work)
3 ounces basil
3-5 tbsp olive oil
2 tbsp lemon juice
2 tbsp water
salt
pepper
Choose ONE: 2 tbsp nutritional yeast, 1/2 cup vegan Parmesan or 1/2 cup vegetarian Parmesan (or other hard cheese)

For garlic bread:
Udi's hamburger buns (1-2 packages)
butter or oil to taste
garlic powder to taste

1. Preheat oven to 375 degrees. Set tofu to pressing or defrosting (see tofu post). Meanwhile, combine all pesto ingredients in a food processor and blend until smooth. (If you're using Parmesan, that can be blended into the sauce or held back and added on top of the final dish).

2. When tofu is ready to cook with, cut into approximately 1″ cubes. Toss gently with the 1 tbsp of olive oil, all the balsamic vinegar, and a few tbsp of the pesto sauce. Spread tofu in a single layer on a baking sheet and bake for 30-40 minutes, until tofu is golden brown.

3. While tofu is baking, prepare pasta according to package directions. I find Tinkyada pasta has a wonderful texture if you follow the energy-saving method explained on the package, and start checking it for doneness about halfway through the recommended time. While tofu and pasta cook, place the hamburger buns soft side up on another baking sheet and slather some butter/oil and garlic powder on them to taste.

4. When tofu is ready, set aside. Turn your oven's broiler on low, put your garlic bread in, leave the oven door cracked and keep an eye on it! It will brown deliciously and quickly. You may see a need to rotate the tray when the back buns are browning and the front ones need more time. Broiling will only take a couple of minutes!

Serve tofu and sauce over pasta with garlic bread. All kinds of veggie sides works really well with this.